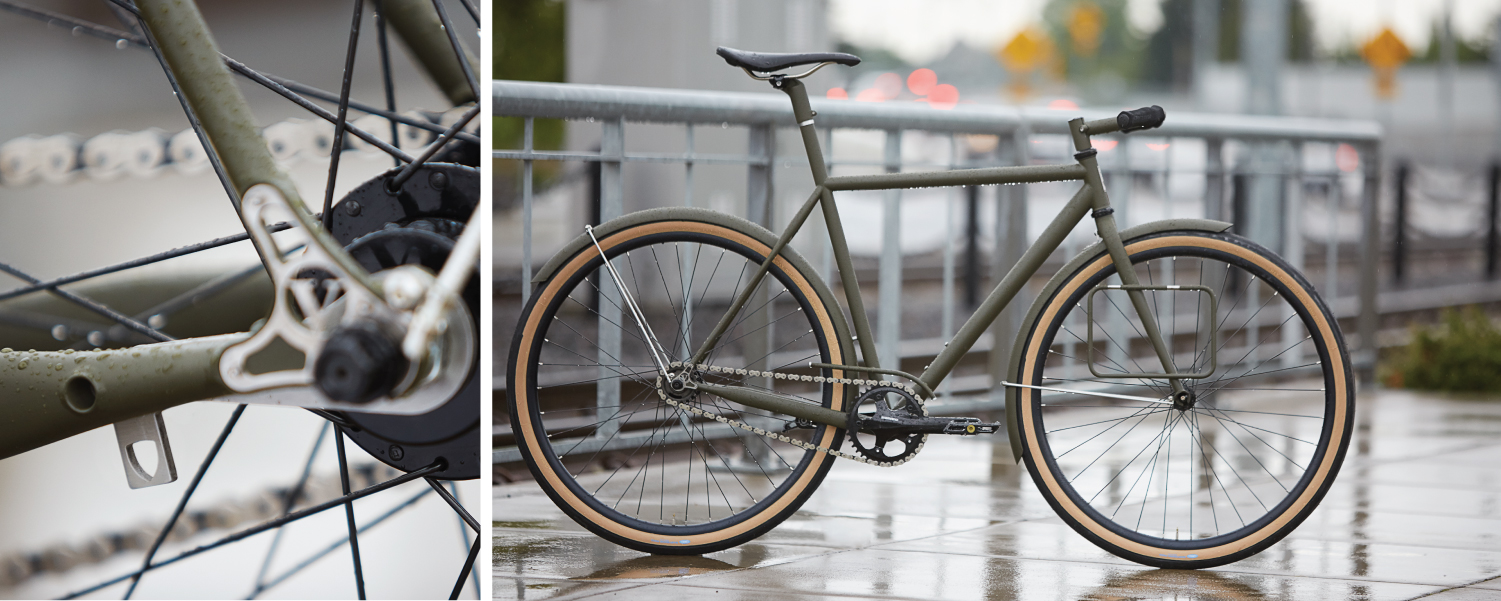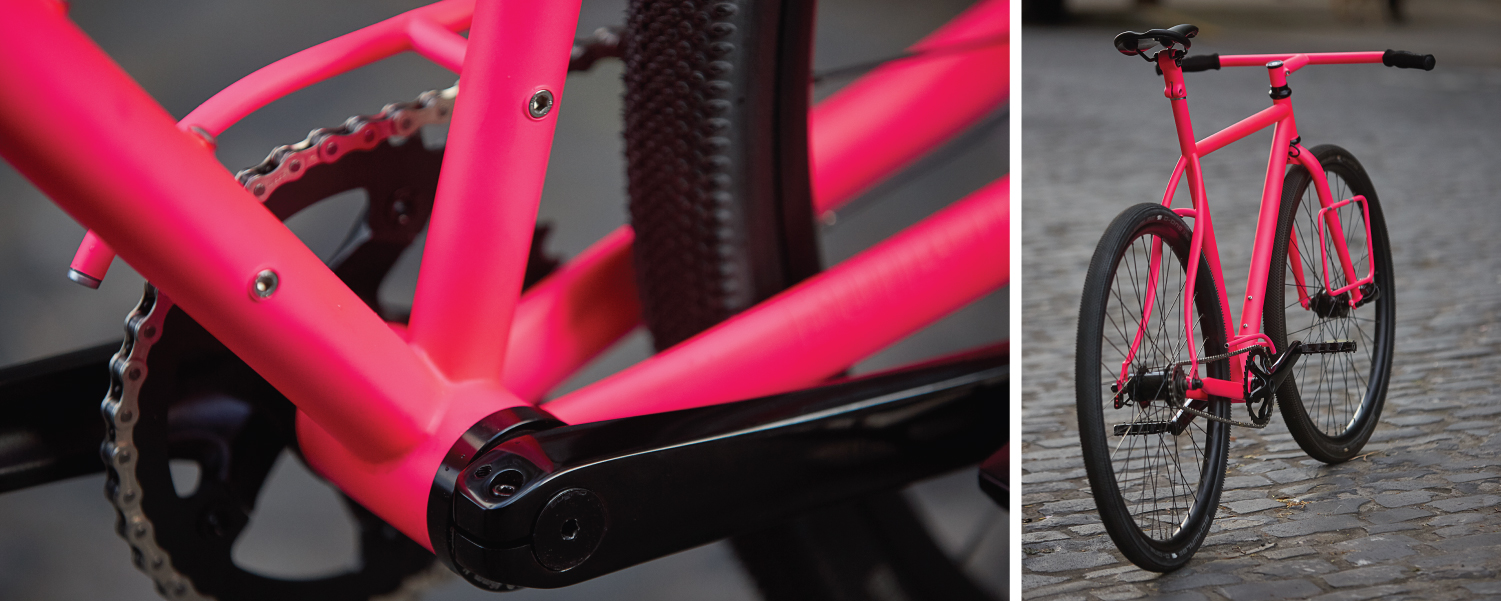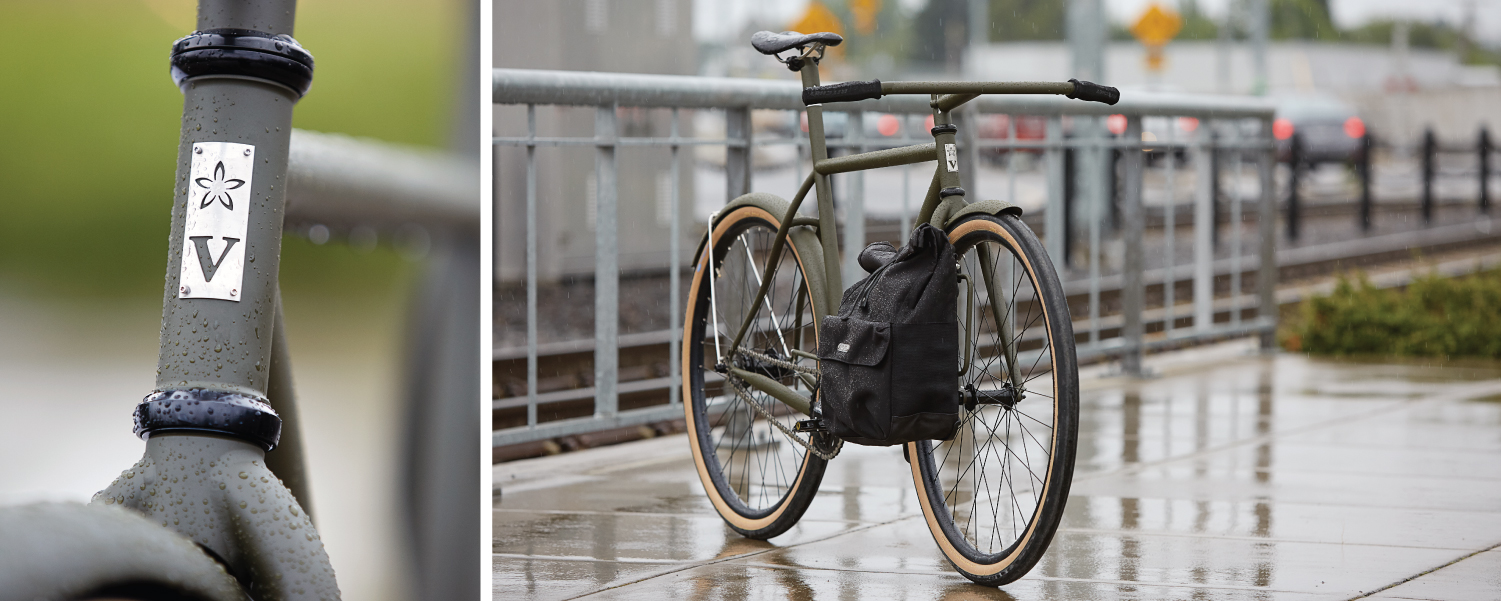 The Urban Racer
If you're looking to classify it, you should probably keep looking.
Based on our thoroughbred road bike chassis. Ready for whatever your can throw at it.
You could take the most direct route to work or wherever, but what do you really want to do? Where is the fun? What makes you feel alive?!
The Urban Racer is born from how we "want" to ride, rather than how we "should" ride.
Passion, rather than pragmatism.
Designed by Sacha as an answer to his family's big, slow and heavy grocery getter. The Urban Racer is light and bomber, with geometry that likes sprinting up hills, riding down stairs, surfing concrete berms, or cruising one handed (or no handed) while carrying one's beverage of choice - all with the beautiful simplicity of your childhood bike. The one you used to explore your town with friends, chasing each other through fields, hitting jumps and laying it down in front of the store to run in and grab a soda.
And like that time with friends, the Urban Racer isn't about sport, or training, or commuting. It's not about being reasonable or responsible. It's about boom! And kapow! Laughing and shaking heads about doing stupid sh!t. Yes. Lets get back to that!
Our Dollar-to-Shred Equation. (It's simple)
Ready Made Urban Racer = Less money. Less Money = Less Worry. Less Worry = More Shredding.
We believe in US manufacturing, super high-end materials, tons of detail and an incredible ride.
We also believe that attainability is directly related to usability.
The Ready Made version of our Urban Racer has the exact same design and materials as one of our custom Urban Racers, but built in small batches by our production partners, making the process more efficient.
The result is a complete Speedvagen Urban Racer, fully built for $3495.
Our goal though is not to make another bike that can be had anywhere, but instead to build a full on Race Machine that's made in the US, without compromise, and ultimately to change the way that people think about getting around town.
We have fifteen Urban Racers in this first batch. Five of each size (small, medium, and large). Reserve yours here!
Berzerker Dropouts
This dropout is our lightest and smartest to date. The Berzerker dropout is cast from a super strong steel alloy and incorporates stainless steel inner and outer faces. The use of dual materials means that we get the strength of the base metal and the protection from wear and tear offered by raw stainless.
Standard Feature: Chain Guard
Every detail on the Urban Racer has been conceived and designed to minimize clutter and maximize fun. It's our own design made from super light stainless steel. It's the most svelte chain guard you'll ever see.
Standard Feature: Coaster Brake
No complications, no distractions. We put a coaster brake on the Urban Racer for it's utter simplicity and it's complete skidability. It's paired with a two-speed internal SRAM hub that shifts automatically, for a return to simpler and slightly sketchier fun.
Standard Feature: Integrated Seat Mast
The integrated seatmast makes for beautiful lines. There are a couple
of things that are unique to our bikes. Each length of every Speedvagen seatmast is finished specifically for its owner, and features 15mm of adjustment.
The Stock Build:
Two iconic color options. Matte Army Green or Hot Pank.
Crankset: Shimano FC RS500
Wheels, Front DT350 rear SRAM Automatix laced to Velocity Blunt SS with butted DT Comp spokes
Tires: Schwalbe G-One
Saddle: Fabric Scoop Ti rails
Stem: Painted to match PRO PLT
Bar: Nitto Jitensha handlebar
Seat post head: Painted to match Ritchey
Headset: Ritchey WCS
Grips: Ritchey
Eccentric bottom bracket
Chain: KMC K810
Speedvagen custom coaster brake arm
Plus, all of the features of our standard Speedvagen frame including Berzerker dropouts, integrated seatmast, superlight steel and strategically placed stainless reinforcements. Shazam!
Have Ready Made Urban Racer questions? Contact us at info@speedvagen.com